08.06.09 / Author: zoey
Warning
: trim() expects parameter 1 to be string, array given in
/home2/gpower2/public_html/femininetattoos.biz/wp-content/plugins/maxblogpress-optin-form-adder/optin-form-adder-lib/include/optin-form-adder.cls.php
on line
120
Egyptian Tattoos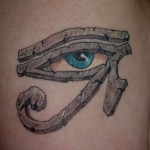 With the current popularity of tattooing, more and more expressive pieces of cultural body art are being sought out and displayed. This is certainly true with Egyptian tattoos. Egyptian tattoos represent various symbolic expressions that are derived from an ancient culture. Egyptian tattoos are often very colorful in nature and possess a certain exotic flare that attracts people to them. In fact, many Egyptian tattoos are equally suited for men and women.
Egyptian tattoos are not new. It has been discovered that the ancient pharaohs and dignitaries of ancient Egypt wore tattoos as well. Many of the remains that have been unearthed over the years prove that the Egyptian people of antiquity were tattoo wearers. Both men and women were the subjects of a little body ink during these ancient times. It would appear that the Egyptians were very ahead of the times concerning the acceptance of wearing tattoos. As a result, many experts believe that Egypt is the birth place of tattoo body art.
Today, Egyptian tattoos may very well represent something completely different than they did in times past. Nevertheless, these tattoos still hold meaningful symbolism that is just as expressive. One common trait that you will find with Egyptian tattoos is that they can often be very beautiful – featuring vivid colors and detail. The subject matters include pyramids, gods from the Egyptian pantheon (each representing certain meanings), or Egyptian mythological creatures such as the sphinx. Egyptian hieroglyphics, much in the same manner as Chinese tattoo symbols, are also becoming popular.
Now the aforementioned subjects for Egyptian tattoos tend to be the larger pieces. These tattoos will find prominent places on the arms, the back and chest. However, these are not the limit of Egyptian subjects that wearers find interesting. There are a number of symbols of smaller shapes that also are popular subjects for Egyptian tattoos. This includes such pieces as the ankh and the Eye of Horus. Egyptian tattoos of these subjects are generally small in size and are perfect for places like the small of the back, the ankle, hip, or wrist. Indeed, these tend to be favorite selections for the ladies who find an interest in Egyptian tattoos.
Like many cultural tattoo subjects, there is a wealth of information available about the various meanings attached to the different facets of Egyptian lore. If you are looking for symbolic meaning as opposed to a just having a cool looking mummy on your arm, it shouldn't be too difficult (with a little research) to find the information you need. There are plenty of tattoo artist and studios, for example, that specializes in Egyptian tattoos and can assist you in finding the appropriate piece for you.
Egyptian tattoos are an ancient form of visual expression that continues to find relevance today. These beautiful pieces of body art resonate with many tattoo wearers not just for their beauty, but also because of the richness of their cultural significance. Men and women alike can find Egyptian tattoos as their tattoo style of choice.