07.06.09 / Author: zoey
Warning
: trim() expects parameter 1 to be string, array given in
/home2/gpower2/public_html/femininetattoos.biz/wp-content/plugins/maxblogpress-optin-form-adder/optin-form-adder-lib/include/optin-form-adder.cls.php
on line
120
White Ink Tattoo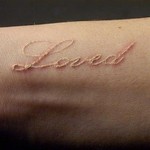 Deciding on getting a tattoo is not easy as it requires conviction and a lifetime commitment. But, this is just half the battle! When you have made up your mind, you ought to decide whether you like the bold tattoo or a white ink tattoo. Yes, there is such thing as a white ink tattoo and its trend has begun in Hollywood.
Before reading on, We wanted to let you know:
Here is our recommended comprehensive tattoo design site: Chopper Tattoo
Here is our recommended comprehensive Tattoo flash site: Tattoo Me Now
What is a White Ink Tattoo?
Tattoo inks are composed of a carrier and pigments. The carrier is the substance responsible for keeping the ink evenly mixed and pathogen-free. These are composed of ethanol, water, propylene glycol, and glycerine. These components make the ink permanent when inserted in the skin.
Pigments may be made from iron oxides or rust, plastics, metal salts, and other plant sources – some manufacturers do not disclose their ingredients to the public. The common pigments are black, brown, purple, orange and yellow, blue and green, and white.
A white ink tattoo can be used solely to water down other pigments and produce different shades, to add highlights, or as cover up. A white ink tattoo is typically made from titanium oxides.
In the past, tattoo inks were taken straight from nature with limited pigment variety; while today, tattoo inks are mass-produced and tattoo artists can mix the inks to create distinct pigments.
Why would I get a White Ink Tattoo?
The white ink tattoo is different from regular tattoos primarily because of its color. If you want something personal, discreet, and concealable, getting a white ink tattoo is the best for you. You do not even have to deal with the extreme, elaborate, and bold colors unlike regular tattoos. White ink tattoo designs are barely visible, you won't even notice unless you deliberately stare at them.
In today's fashion, women are engrossed with getting a white ink tattoo because of the privacy and subtleness it achieves with the faint white lines that project delicateness and femininity. Others simply follow the fashion statement of Hollywood celebrities like Lindsay Lohan and Kate Moss. The popular place to have your white ink tattoo done is at the Shamrock in Los Angeles.
Success Rate of a White Ink Tattoo
In spite of the soaring trend of white ink tattoo, professional tattoo artists admittedly still have difficult time in preserving the purity of the white ink during the process. Moreover, even if the process is successfully done, the white ink can heal raised or protruding a little bit, or turn transparent or yellow.
The all-white design is challenging to maintain and preserve even before inking. Ironically tattoo artists prefer the white ink tattoo for the pale-skinned. Apparently those with darker skin tone have lower level of ink absorption. If you are fair-skinned, you might end up having a white tattoo that looks like scar tissue or a brand.
Whatever your taste may be, if you're really dying to get a white ink tattoo, do your homework about the pro's and con's of the method. Take the effort to talk with your tattoo artist and check his or her portfolios as well before you indulge yourself.